Obama deja que las leyes contra indocumentados las hagan los Estados de la Unión a su regalada gana
I

 After Arizona, followed by Alabama, Utah, Indiana, Georgia and South Carolina passed punitive laws in their assemblies to more severe ...

 

Casi todos los Estados de EEUU han luchado contra la inmigración por sí solos este año, en ausencia de cualquier movimiento del Congreso sobre el asunto, y más de la mitad considera a Arizona como el modelo de medidas a ejecutar, frente a sólo seis de los 50 Estados, el año 2010.

OBAMA SE HACE EL DE LA VISTA GORDA

Después de las leyes anti-inmigración de Arizona, siguieron los estados de Alabama, Utah, Indiana, Georgia y Carolina del Sur aprobando en sus asambleas leyes aún más severas en algunos aspectos ...

 
Obama al margen de las leyes contra indocumentados, reconocen expertos
William Márquez
BBC Mundo, Washington
En opinión de algunos observadores, los estados que han aprobado sus propias leyes draconianas contra extranjeros indocumentados en Estados Unidos violan la prerrogativa del gobierno federal de legislar en temas migratorios. Sin embargo, la Casa Blanca ha mantenido silencio en la mayoría de los casos.
Desde que el gobierno federal demandó y logró bloquear una de las leyes antiinmigratorias más polémicas del país, promulgada en 2010 por la gobernadora conservadora de Arizona, no ha hecho lo mismo ante la racha de otros estados que han seguido el ejemplo aprobando leyes similares.
Después de Arizona, siguieron los estados de Alabama, Utah, Indiana, Georgia y Carolina del Sur aprobando en sus asambleas leyes hasta más severas en algunos aspectos.Aunque algunas organizaciones que abogan por los derechos civiles han tenido éxito en los tribunales contra estas leyes, los defensores de las comunidades inmigrantes en EE.UU. ven con preocupación la falta de acción del presidente Barack Obama para enfrentar la legislación estatal.
Según el Departamento de Justicia, el gobierno está actualmente revisando las leyes aprobadas en estos últimos estados. Asegura que tanto el fiscal general de la nación como el presidente se oponen a que la política relacionada a la inmigración sea una "colcha de retazos" de leyes estatales.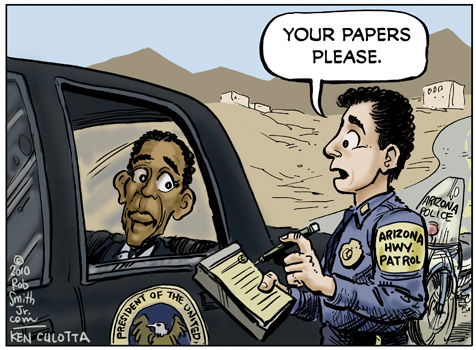 -
"Donde estas leyes interfieran con el cumplimiento de las leyes federales sobre inmigración estamos preparados para demandar", declaró a BBC Mundo, Xochitl Hinojosa, portavoz del Departamento de Justicia.Aún no lo han hecho -con la excepción de Arizona- y la portavoz del Departamento de Justicia declinó a comentar sobre la demora.Esa demora preocupa a algunos defensores de los derechos de los indocumentados que ven una tendencia entre políticos de querer explotar el sentimiento antiinmigrante en el país para lograr popularidad y votos, sobre todo ahora que se inicia la temporada de campañas electorales.
El abogado especialista en inmigración José Pertierra, opina que Barack Obama está midiendo sus pasos según le convenga para sus aspiraciones de ser reelegido."El presidente mira por dónde soplan los vientos políticos y ese es el rumbo que sigue", comentó a la BBC.
Pertierra cree que, mientras Obama necesita el voto latino y tiene que dar un buen discurso sobre inmigración, al mismo entiende que el país se ha movido a la derecha y que hay una creciente fuerza política antiinmigrante de la que no se puede aislar. "El quiere estar en ambas partes, pero eso no funciona", afirmó.
De ley estatal a ley federal
El congresista Lamar Smith promueve estrictas leyes a nivel federal.Una de los serios temores que tienen los activistas que defienden los derechos de los ciudadanos -sean indocumentados o no- es que si no se arremete contra los estados, las leyes estatales antiinmigratorias podrían convertirse en leyes federales.
"Ese es el peligro", dijo José Pertierra. "La mayoría republicana en el Congreso tiene un representante de Texas, Lamar Smith, que dirige el Comité Judicial de la Cámara y que quiere varias propuestas de leyes que son completamente antiinmigrantes".
No obstante, hay organizaciones no gubernamentales como la Unión de Libertades Civiles (ACLU, por sus siglas en inglés) que han lanzado sus propias demandas contra las leyes estatales y obtenido éxitos en varias instancias.Precisamente el lunes pasado, la ACLU logró bloquear en un tribunal la ley del estado de Georgia que tenia previsto criminalizar actividades como transportar o darle un "aventón" a una persona indocumentada.
Omar Jadwat, ACLU"De cuatro leyes estatales que han sido demandadas, cuatro han sido bloqueadas", informó a BBC Mundo Omar Jadwat, abogado del Proyecto sobre Derechos de los Inmigrantes de la ACLU.
Las iniciativas de la ACLU son independientes de las medidas que toma -o no toma- el gobierno contra la legislación estatal y, aunque la organización exhorta a Barack Obama a continuar en otros estados con lo que hizo en Arizona, Omar Jadwat no cree que la inactividad de la Casa Blanca se deba a que las elecciones estén en el horizonte.
"Es verdad que no han demandado a otros, pero no es que haya habido silencio total", recalcó Jadwat. "Obama específicamente criticó la ley en Georgia diciendo que era un error, que no era la vía correcta y el tribunal tomó nota de esa declaración".
A la espera
La ley en Alabama afecta en especial a los inmigrantes de edad escolar.Sin embargo, José Pertierra insiste en que lo que necesita el presidente es voluntad política para tomar acción más que discursos.
"Esta es una batalla que él tiene que dar, él la prometió a la comunidad latina cuando se lanzó y muchos latinos votaron por él precisamente por eso", recordó.Por su parte, Xochitl Hinojosa, del Departamento de Justicia, asegura que el gobierno sí está "consternado con las medidas que han tomado los estados y su posible impacto".
Como muchas de estas leyes no han entrado en vigor en los estados que las aprobaron, es posible que el gobierno esté revisando y sopesando la situación para ver cómo actuará una vez sean promulgadas."El hecho que el gobierno no haya demandado a estos estados no sugiere nada", expresó Omar Jadwat de la ACLU.
El ACLU cree que el gobierno está viendo cómo mejor utilizar sus recursos ya que "entre más casos ganemos nosotros, menos tendrá que esforzarse la administración", concluyó Jadwat.
Pero para José Pertierra lo que el presidente debe hacer es esforzarse más para cumplir con lo que, según opina, prometió."Ojalá se dé cuenta, antes de las elecciones, de que el pueblo responde a un líder que toma decisiones en base a principios y no en base a encuestas", sentenció.
¿Y SI LE DAN A OBAMA DE SU PROPIA MEDICINA?
--
-----------------------------
After Arizona, followed by Alabama, Utah, Indiana, Georgia and South Carolina passed laws in their assemblies to more severe in some things. Some organizations that advocate for civil rights have been successful in court against these laws, advocates of immigrant communities in the U.S. are concerned about the inaction of President Barack Obama to address the state law.
--
--
----------------------------
States' immigration efforts fizzle
May 23, 2011 //
MIAMI (AP) — Nearly every state in the union tried to tackle immigration on its own this year in the absence of any congressional movement on the matter, and more than half considered Arizona-style enforcement measures, up from just six in 2010.
But an Associated Press review found that in legislature after legislature, nearly all the most punitive measures failed.
What had passed as of Monday mostly reinforced current federal law, though a small number of states actually passed legislation that was helpful to illegal immigrants.
Many measures were set aside so lawmakers could focus on pressing budget crises, but immigrants have also developed more sophisticated lobbying efforts, and business owners came out strongly against tougher sanctions. Some worried about losing sources of labor and gaining extra paperwork. Others feared tourism boycotts like the one organized against Arizona.
Early in the year, high unemployment, a slew of newly Republican-dominated legislatures and nationwide frustration over the failure by the White House or Congress to address the problem suggested Arizona's law would be copied.
That law makes it a state crime for an illegal immigrant to work, penalizes employers who hire them and encourages local authorities to turn over illegal immigrants to federal authorities, among other measures. An appellate court has blocked provisions that require immigrants carry visa documents and allow police broad leeway to question the immigration status of those they suspect are in the country illegally.
Louisiana State Rep. Joe Harrison, a Republican, said federal inaction prompted his interest in state laws on immigration.
"I'm just trying to give them a little Taser move in the right direction," he said.
But Harrison's bill has yet to move out of committee, and most of the others failed, as did most of the proposals requiring businesses to use the federal government's electronic E-verify system to check the eligibility of new hires. Only a few states made any serious attempt to crack down on employers.
So far, only Georgia and Utah have passed comprehensive bills. South Carolina and Alabama are still considering them. Utah's law includes a provision to allow illegal immigrants to work in the state, and the American Civil Liberties Union has already sued Utah over the law's enforcement provisions.
Georgia was the shining example for those hoping to step up enforcement and the closest to Arizona. Its new law allows local officers to check the immigration status of a suspect who can't produce an accepted form of ID. It also includes a provision requiring employers with more than 10 employees to use E-Verify by July 2013, similar to a 2007 law Arizona. Georgia Gov. Nathan Deal signed the bill earlier this month and opponents say they plan to sue the state.
Following the failure of the recent Dream Act in Washington — which would have provided a path to legalization for qualified illegal immigrant students and other young adults — several states adopted legislation this session that helps illegal immigrant students. Maryland approved in-state college tuition for illegal immigrants, Illinois is likely to set up a private scholarship fund for them, and Connecticut expanded in-state tuition for graduate school. An in-state tuition bill in Oregon passed the Senate but has yet to reach the House floor.
Arizona lawmakers ordered school districts to report students' residency, but that was geared toward keeping children who live across the Mexican border from enrolling in Arizona schools.
Only Indiana passed a law to prohibit in-state tuition for those in the country illegally, a largely symbolic move.
Most legislation never gets out of committee, and compromise is always key.
But experts on both sides credit businesses for much of the legislations' failure.
"Business owners came out of the woodwork in a way they hadn't done before," said Tamar Jacoby, president of ImmigrationWorks USA, a national federation of mostly small-business owners who support immigration reform.
Many Florida businesses said they feared the economic damage that would be caused if the state were hit by a tourism boycott like the one immigrant rights groups organized against Arizona.
In Arizona, 60 top executives signed a letter to Arizona's Senate president, asking for a moratorium on immigration bills.
Indianapolis-based drug maker Eli Lilly was among those who publicly opposed an Arizona-style bill. Last week, Indiana Gov. Mitch Daniels signed into law more modest bills: the in-state tuition ban and an end to tax credits for companies that hire illegal immigrants.
In Utah, businesses helped create the Utah Compact, the basis for the most comprehensive immigration law to come out of the states. It resembles Arizona on enforcement but allows illegal immigrants to work in Utah. A judge blocked the bill last week, following the ACLU lawsuit.
Jacoby acknowledged many businesses particularly opposed E-verify.
Indeed, in Florida, the House and Senate couldn't reach a compromise on the E-verify component, and the proposals died. The Indiana and Alabama legislatures faced similar splits between their House and Senate over measures targeting employers.
Jacoby said it was the Arizona-like enforcement sections of the bills that generated the attention and public debate, and that in many states, E-verify went down along with them.
Mark Krikorian, executive director of the Center for Immigration Studies, which advocates stricter limits on immigration, believes many businesses concerned about E-verify cynically stoked opposition to the bills by emphasizing the enforcement angle.
"The businesses community really did pull out all the stops on this, and I have to give them props," Krikorian said. "The strategy was to make a big deal about Arizona-style legislation in order to scare off E-verify."
Immigrants and their supporters were also ready to battle, capitalizing on networks they developed in recent years in response to Arizona's law and the federal government's stepped-up deportation efforts.
In Florida, farmworkers, students and other immigrants and activists spent weeks at the Capitol, protesting and praying during committee hearings but also lobbying heavily behind the scenes.
In Kansas, they quickly spread a YouTube clip of Republican State Rep. Virgil Peck likening illegal immigrants to feral hogs, generating a swift backlash nationwide that helped doom bills there.
The progressive Latino group Democracia USA took out ads against proposals in Colorado, Pennsylvania and Florida. President Jorge Mursuli said backers of some state bills couldn't answer basic questions about the legislation, such as whether families hiring nannies would have to use E-verify, or whether employers would be on the hook for unemployment insurance for new hires found ineligible to work.
"A lot of folks were doing this as a political stunt, rather than as a real policy effort," he said.
Still, those itching for action in Washington may get their wish. Immigration groups and those who support enforcement-only measures say they will redouble lobbying efforts at the federal level. Last week, Democratic senators in Washington reintroduced the Dream Act, though it's unlikely to pass the Republican-led House, and certainly not before the 2012 election.
President Barack Obama also gave his second speech in two weeks on immigration.
Krikorian noted the Supreme Court will soon rule on the constitutionality of a 2007 Arizona law that mandated all companies there use E-verify. If that law is upheld, he believes other states will again follow Arizona's lead.
"Then the game isn't over," he said.
___
Associated Press writers Josh Loftin in Salt Lake City, Kate Brumback in Atlanta, Ken Kusmer in Indianapolis, Molly Davis in Baton Rouge, La., and Roger Alford in Frankfort, Ky., contributed to this report.
 http://www.benefitspro.com/2011/05/23/states-immigration-efforts-fizzle
31 Ene 2011 – Situation in Georgia becoming Serious over New Immigration Law. .... advocates last night in his State of the Union Address last ... The Presidents action or in this case inaction could cause much harm to him in these communities for ... With President Barack Obama having come to his midway point of ...
www.krpclaw.com/Immigration_Blog/2011/January.aspx - En caché
27 Jan 2011 – A newly proposed Georgia state legislation has a church group fearful that it ... Evangelicals, Human Rights Groups Decry Gov't Inaction on Refugees ... The law raised fears among immigrant communities that they could be ... However, President Barack Obama stepped in, blocking some of the bill's ...
www.christianpost.com › Politics - En caché
23 May 2011 – That law makes it a state crime for an illegal immigrant to work, ... said federal inaction prompted his interest in state laws on immigration. ... like the one immigrant rights groups organized against Arizona. ... President Barack Obama also gave his second speech in two weeks on immigration. ...
www.benefitspro.com/.../states-immigration-efforts-fizzle - En caché
4 Dic 2010 – malcolmallison. Just another Lamula.pe weblog ... La política exterior actual de los Estados Unidos de América, en la sala Miguel ...
malcolmallison.lamula.pe/...migracion.../malcolmallison - En caché
23 Jun 2011 – Brasil desplazó a España como nuevo dorado para la ...
malcolmallison.lamula.pe/tag/migracion - En caché
4 Jul 2011 – malcolmallison. 10157. Biólogo desde hace más de treinta años ...
lamula.pe/2011/07/05/la-pobreza-de...migrantes.../malcolmallison
-